ophthalmology
Different layers design the cornea of the human eye and can show a rather random or aligned structure. The electrospinning offers the possibility to produce random as well as aligned fiber structures, so that these structures can be used for the support and reconstruction of human tissue.
Artificial wound patch and suture retention test
Diseases, chemical burns, cuts, and other incidents can cause damage to the transparent layer of the eye, called cornea. In order to protect these wounds from further damage and to support the healing process ophthalmologists cover the damaged area with patch grafts from donor tissue. The tissue from different donors varies in its properties and its availability is strongly dependent on the number of donors. From electrospinning a transparent patch graft can be produced by a variation of random and aligned nanofibers. Moreover, novel collectors for electrospinning offer the possibility to produce grafts matching the dome shape of the cornea in order to prevent wrinkling during the attachment.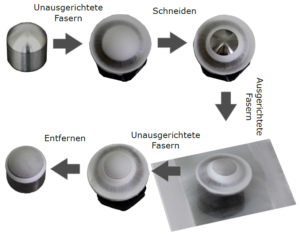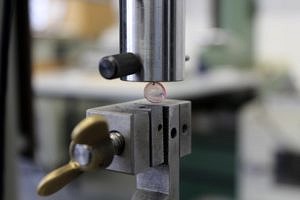 In a surgery the grafts were sued to the patients eye with surgical sutures. Based on their thin diameters, any force applied on the sutures results in a high stress on the graft. To characterize the graft's resistance against suture pull-out the suture retention test, developed at the LSP, is used. Thus, nanofiber membranes from the electrospinning can be compared with conventional human donor tissue regarding their sewability.
Source: F. Küng
Nanofiber membranes for posterior lamellar keratoplasty
Posterior lamellar keratoplasty (DSAEK, DMEK) currently is the gold standard for treating patients with a corneal endothelial cell pathologies resulting in functional impairment. This surgical approach depends on the availability of human donor corneas. An artificial biomimetic graft carrying human corneal endothelium could minimize this dependency giving access of this surgical method to larger numbers of patients. A potential approach is hereby the electrospinning of nanofiber membranes.
The LSP offers the possibility to electrospin a variety of polymers from different solvent systems and to analyse the resulting nanofiber membranes. Among other things, optical evaluation can be done using a scanning electron microscope (SEM). By this, the surface morphology of the nanofibers as well as their dimension can be examined.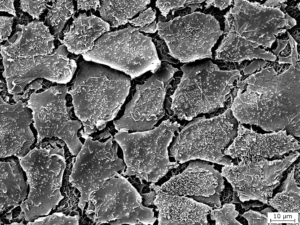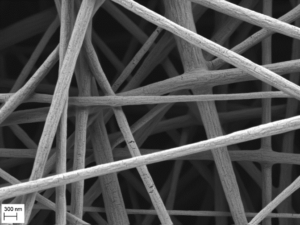 In collaboration with the Department of Ophthalmology from the University Medical Center Rostock and the Institute of Functional and Clinical Anatomy from the Friedrich-Alexander University Erlangen-Nuremberg cell experiments with human corneal endothelial cells were performed. The experiments should prove the biocompatibility of the nanofiber membranes and the potential use of the graft as substitute for human donor tissue.
Collaborations:
Professor Fuchsluger:
Department of Ophthalmology, University Medical Center Rostock
Professor Paulsen
Institute of Functional and Clinical Anatomy, Friedrich-Alexander University Erlangen-Nuremberg