Thank you for your help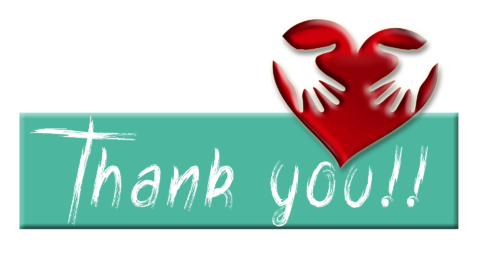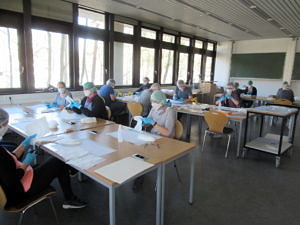 The LSP team with Prof. Dr. habil. Drik W. Schubert and Prof. Dr. Marcus Halik and the doctoral students of the LSP-PPS and LSP-OMD working groups would like to thank the numerous volunteers for their support in the manufacture of the breathing masks.
Under the motto # solditarity for the communications clinic or #gemeinsam Gegencorona, many employees of the university hospital and from various areas of the FAU came to the chair to help manufacture the breathing masks.
We especially thank you for the support by:
– The School of Applied Sciences in Forchheim and the Chair for Biomaterials, which helped with the 3D printing of the clips to adjust the ribbons.
– Due to the high number of pieces, the clips are now manufactured on the LKT using injection molding in high quality.
– The employees of the central workshop at the FAU, which has been very committed to further developing the hot pressing process.
Whether pressing the materials, cutting o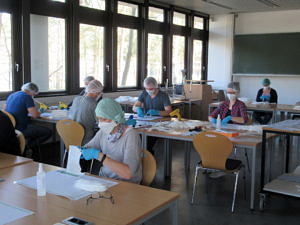 ut the masks or sticking the straps or threading the closures … it was a good cooperation and everyone was fully involved.
THANKS for the great support!
Easter was sweetened by the provision of chocolate bunnies, cookies and other sweets by the university clinic. Many thanks for this too!